WHAT IS PURE ZONE?
PURE ZONE ® is a high-quality anti-microbial clear laminate, which provides effective and long-lasting protection from 99.9% of Germs. The film can be applied alone or accompanied with a custom digital print. It can be applied in all locations with high sanitary requirements or high traffic areas. PURE ZONE ® is used in hospitals, healthcare establishments, doctor offices, dental offices, gyms, schools, restaurants, banks and many other establishments where its necessary to maintain a clean facility. PURE ZONE ® adds that extra layer of protection everyone is looking for right now during these unprecedented times.
How does it work?
PURE ZONE® is constructed out of PVC, which is then enriched with Silver Ions. Silver Ions are highly reactive and destroy multiple sites in bacteria cells. During cleaning operations, as well as in the presence of humidity, silver ions are released from the top layer of the film. These ions come into contact with the bacteria, blocking their metabolism and/or interrupting their proliferation mechanism, leading to their destruction and therefore reducing germs by 99.9%.
The anti-microbial efficiency of silver ions
Protects 24/7, and thus between 2 cleaning phases
Protects inaccessible areas
Inhibits the development of 99.99% of the germs tested
Reduces a bacterial population by 4 logs
Prevents the formation of biofilm
Active for 5 years
Perfectly ecological
No nano-particles
WHERE CAN PURE ZONE BE APPLIED?
PURE ZONE® can be applied anywhere and everywhere you'd like to protect. We suggest using PURE ZONE® on all commonly touched surfaces such as entry way doors, door knobs, countertops and restrooms. It is already used in a variety of locations including Trains, Planes, and Subway systems; thus exposing the film to a significant amount of constraints it is built to handle. You shouldn't have to worry about changing your cleaning protocols, as the film is resistant to most chemical agents, alcohol and diluted acids. The product is a Non-Irritant and safe for use on human skin.
… ANYWHERE WITH A SMOOTH SURFACE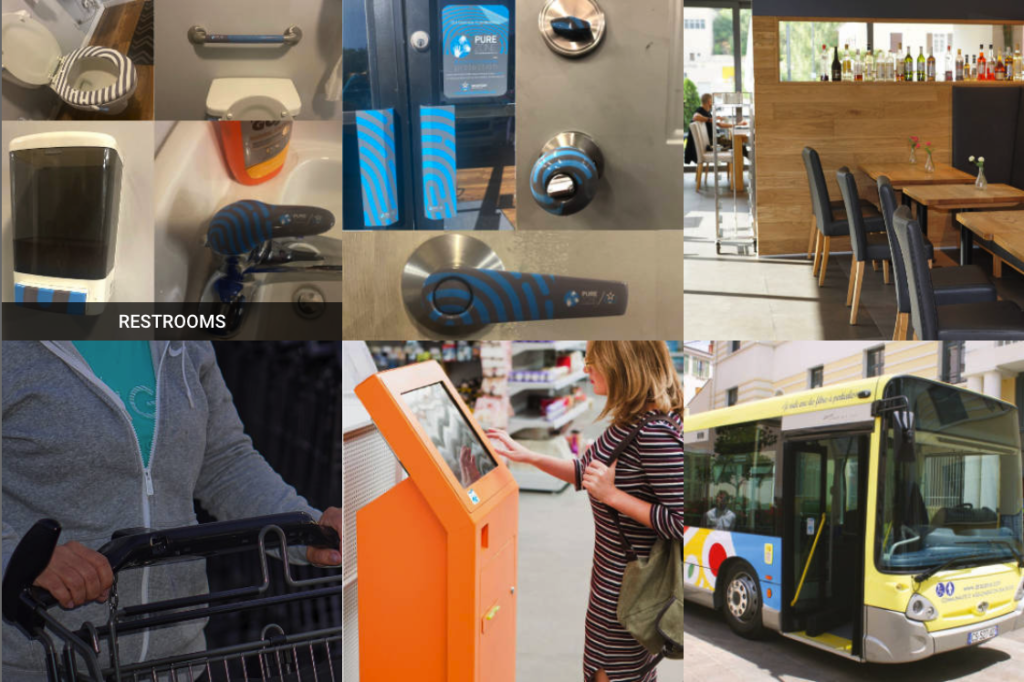 THE PURE ZONE® LABEL
In order to identify the areas protected by the antimicrobial film look for the gray and blue fingerprint pattern. This pattern can appear at the entrance, on doors, door handles, and many more places equipped with PURE ZONE®.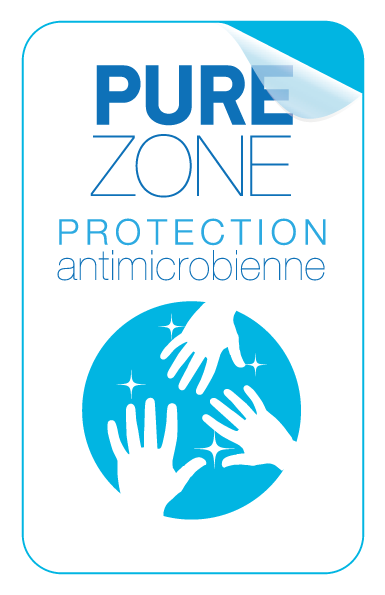 The PURE ZONE label
On order to clearly identify areas protected by an anti-microbial film HEXIS has created the PURE ZONE label.
The label can be fixed under the film in the access area or entrance to a protected site (doors, reception counters, desks etc.).
PURE ZONE will reassure your clients and clearly show that they enter a protected zone.